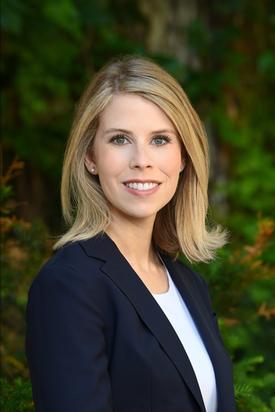 Ariana Meyers
Assistant Professor of Law,

School of Law
Office Address
Law School Room 130
215 Centennial Drive Stop 9003
Grand Forks, ND 58202-9003
Biography
Ariana D. Meyers joined the University of North Dakota School of Law Faculty in 2018. She teaches upper level law students Family Law, Trial Advocacy, Reading, Writing, and Analysis Skills for the Bar Exam and is the co-advisor for the Moot Court program. In addition, she is the faculty supervisor for the Family Law Clinical Practicum.
Professor Meyers is a North Dakota court appointed mediator in the North Dakota Family Mediation Program. Professor Meyers serves as a Parenting Investigator and Guardian ad Litem, advocating for the best interests of minor children.
During law school, she received second best oralist in the Domenick L. Gabrielli National Family Law Competition and was awarded second place in the National Energy & Sustainability Moot Court Competition at the University of West Virginia. As a third year law student, she was awarded the Louise and Heber Edwards/Judith Greenagel Memorial Law Scholarship.
After law school, Professor Meyers pursued private practice in the area of domestic relations and estate dispute litigation. Professor Meyers is a member of the Family Law Sections of both the North Dakota State Bar and the Minnesota State Bar. She is an active member of the Randy H. Lee American Inn of Court and Greater Grand Forks County Bar Association, where she formerly served as President. Professor Meyers is a co-founder and Past-President of the Greater Grand Forks Women's Leadership Cooperative, a non-profit organization that seeks to champion for the personal and professional lives of women by providing a holistic approach to leadership and well-being. Professor Meyers volunteers with Green-Dot North Dakota which aims to reduce personal violence.
Family Law
Family Law Clinical Practicum I, II, II, and IV
Reading, Writing, and Analysis Skills for the Bar Exam 
Internal Moot Court/External Moot Court
Trial Advocacy
2019 Great Plains Rising Stars list, which recognizes attorneys who are either 40 years old or younger or in practice for 10 years or less. The research team Super Lawyers, a Thomson Reuters business, chooses no more than 2.5 percent of the lawyers in the state in 70 practice areas who have reached a high degree of peer recognition and professional achievement.
2019 Prairie Business 40 Under 40 receipient.
Professor Meyers received her B.A. in Psychological with a minor in Family Social Sciences from the University of Manitoba. She graduated with her J.D. with distinction from the University of North Dakota School of Law.