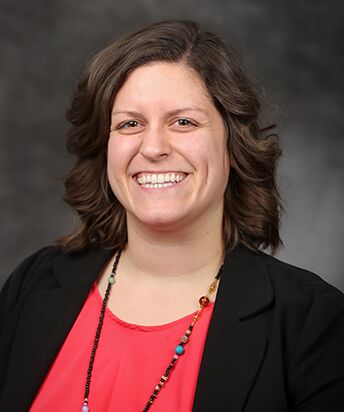 Caitlin Milera
PhD | Director & Research Assistant Professor
Director | ND Space Grant Consortium and ND NASA EPSCoR,

Deans Office Aerospace
Office Address
Clifford Hall Room 512
4149 University Ave Stop 9008
Grand Forks, ND 58202-9008
Clifford Hall 270D
Biography
Dr. Caitlin Milera is a faculty member at the University of North Dakota (UND). She is the Director of the North Dakota Space Grant Consortium (NDSGC) and North Dakota NASA EPSCoR (Established Program to Stimulate Competitive Research). Each of these programs have statewide impacts, are housed under wider national initiatives, and are funded by NASA's Office of STEM Engagement. Dr. Milera is also a Research Assistant Professor in UND Aerospace and teaches undergraduate courses in Space Studies.
Dr. Milera's educational background includes a Ph.D. in Teaching and Learning, with an emphasis in Higher Education, an M.S. in Space Studies, and a B.S. in Astrophysics. Her research interests include STEM education with a focus on engagement of learners who identify as belonging to underserved and underrepresented communities, LGBTQIA+ initiatives in higher education, educator professional development in STEM fields and space sciences, and STEM and NASA-relevant historiography and historical analysis.
Dr. Milera joined the Space Studies department as professional staff in 2013, as the Coordinator for ND NASA EPSCoR and the ND Space Grant Consortium. She was promoted to Deputy Director of those programs in 2015. She began in her current role as a faculty member in UND Aerospace and Director of these programs in 2020.
SpSt 220 - Space Science and Exploration
SpSt 300 - Case for Space
Women and Underrepresented Genders in STEM
Underrepresented Minority Populations in STEM
Persons with Disabilities in STEM
LGBTQIA+ in Higher Education
STEM Education
Educator Professional Development in STEM Fields and Space Sciences
NASA and STEM Historiography and Historical Analysis
Nolby, C., Saad, M., & Bartholomay, A. (2017). Impact of Hands-on Professional Development Workshop in North Dakota on Secondary Teacher Confidence in Space Sciences. 68th International Astronautical Congress.
Saad, M., Fevig, R., Nolby, C., & Seelan, S. (2014). Promoting STEM Education with High Altitude Balloons. 65th International Astronautical Congress.
Nolby, C., & Hardersen, P. (2013). The High School Physics Curriculum and the University of North Dakota Observatory. Communicating Science: A National Conference on Science Education and Public Outreach – Astronomical Society of the Pacific Conference Series, 473, 373 – 376.
2022      Ph.D. in Teaching and Learning | University of North Dakota (UND)
2012      M.S. in Space Studies | University of North Dakota (UND)
2010      B.S. in Astrophysics | University of Minnesota (U of M – TC)
Greater Grand Forks Young Professionals (GGFYP)                                                                   
American Association of University Women (AAUW)                                                                  
NASA's Museum Alliance                                                                                                                           
American Institute of Aeronautics and Astronautics (AIAA)                                                              
Civil Air Patrol Aerospace Educator                                                                                                    
SciGirls® Trainer                                                                                                       
Astronomy Society of the Pacific - Galileo Educator Fellow                                   
Space Grant Communications Subcommittee                                                                            
UND Atmospherium Committee                                                                                                 
Space Grant 30th Anniversary Committee                                                                                               
External Reviewer, Louisiana NASA EPSCoR Research Awards Program (RAP)                     
Department of Space Studies Assessment Committee                                                      
ND State Science & Engineering Fair (NDSSEF) Program & Activities Committee                      
UND STEM Initiative Work Group                                                                                            
Advisor, Dakota Space Society
"Inspiragage" Committee, GLEE (Great Lunar Expedition for Everyone)                 
Mentor, UND LGBTQ+ Mentorship Program                                                                                   
Chair, Department of Space Studies Assessment Committee                                               
Organizing Committee, Aerospace Community Day