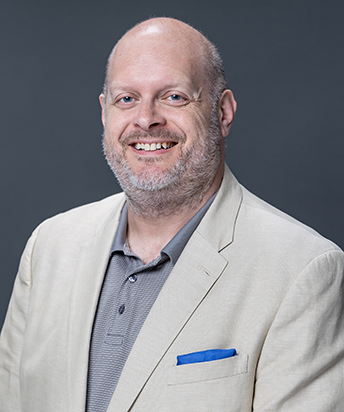 Dan Lewerenz
Assistant Professor,

School of Law
Office Address
Law School Room 130
215 Centennial Drive Stop 9003
Grand Forks, ND 58202-9003
Office Hours
Mondays, 3:00 - 4:30 p.m.
Biography
Dan Lewerenz (Iowa Tribe of Kansas and Nebraska) joined the UND School of Law faculty in 2022 after a decade of practicing law and, before that, a decade in journalism.  Dan came to UND from the Native American Rights Fund, where he was a Staff Attorney in the Washington, D.C., office.  At NARF, Dan was one of two attorneys who staffed the Tribal Supreme Court Project, and drafted amicus briefs in both State and Federal courts, including the U.S. Supreme Court and the U.S. Courts of Appeal for the First, Fifth, and Eighth Circuits.  Dan's litigation docket at NARF included treaty rights, voting rights, the Indian Child Welfare Act, and other issues.  Before NARF, Dan was an Attorney-Advisor at the U.S. Department of the Interior, Office of the Solicitor, Division of Indian Affairs, where his portfolio included both litigation and client counseling concerning the Indian Child Welfare Act, tribal acknowledgment petitions, gaming eligibility determinations, and the development of regulations for acknowledgment of a Native Hawaiian governing entity.  In two-and-a-half years at Interior, Dan was awarded both the Solicitor's Excellence Award (for outstanding legal work) and the Solicitor's Coin (for advancing Solicitor's Office goals).  Dan also clerked for the Hon. Leo I. Brisbois (D. Minn.) and the Hon. Claudia Wilken (N.D. Cal.), and practiced as an associate in the Oklahoma City office of Hobbs, Straus, Dean & Walker, LLP, a national boutique law firm serving Indian Tribes and organizations.  He earned his J.D. (cum laude and Order of the Coif) from the University of Wisconsin Law School.
Before law school, Dan spent more than 10 years as a reporter and editor for The Associated Press in Kansas City, Mo.; Helena, Mont.; Columbia, S.C.; State College, Pa.; and Cheyenne, Wyo.  During his journalism career, Dan was elected twice to the Board of Directors of the Native American Journalists Association, which he served as both President and Vice President.  He earned his bachelor's degree in Philosophy from Kansas State University.
Dan previously taught Federal Indian Law at the William & Mary Law School, and was a graduate teaching assistant at the University of Wisconsin School of Journalism & Mass Communications (Mass Media and Minorities, Mass Communication Practices) and an undergraduate teaching assistant at Kansas State (Introduction to American Ethnic Studies).
Federal Indian Law
Indian Law & Tribal Law Seminar
Civil Proceedure II
Statutory interpretation in Indian law
Comparative institutional analysis in Indian law
Tribal governance in an era of dispersed tribal populations
2010: J.D., University of Wisconsin Law School (cum laude, Order of the Coif)
1996: B.S. (Philosophy), Kansas State University