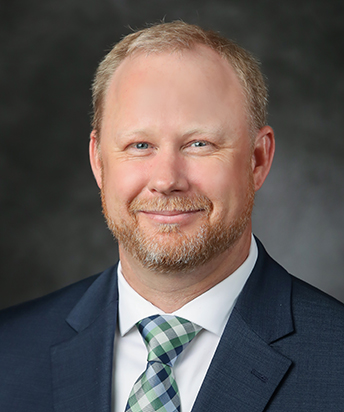 David Dodds
Director of Communications,

UND Communications

Media engagement, FOIA facilitations, Media interview prep
Office Address
Skalicky Tech Room 137
4300 James Ray Drive Stop 7142
Grand Forks, ND 58202-7142
Biography
David Dodds is the UND Communications Director and a member of the Division of Marketing & Communications. In those roles, Dodds develops and implements media and communications strategies for UND, develops strategic media plans, coordinates public relations, UND Today, manages media contacts, pitches stories and responds to media and public inquiries.
Dodds began his Communication Director duties on Feb. 19, 2019. He is the founding editor and developer of UND Today.
Dodds has been with UND for 15 years, and has worked primarily with media, publications and public relations. Previously, he was a reporter for The Grand Forks Herald, where he mostly covered higher education in North Dakota and northwestern Minnesota.
Retired from the North Dakota Army National Guard, Dodds served on several deployments as a military journalist, including to the Middle East and Balkans over his 25-year military career. While in the Army, Dodds managed visits by national and international civilian reporters, helping them embed with troops who were serving overseas. He has been deployed to Iraq, Qatar, Kosovo, Germany, Italy and South Korea.
Dodds, who was born in New Rockford, N.D., and grew up in Dickinson, N.D., earned his bachelor's degree in communication from UND in 1998. He is married to Jennifer, an elementary teacher in Grand Forks, where they have chosen to settle and raise five daughters: Emma, Eliza, Josephine, Amelia and Lydia.
He succeeded longtime University spokesman and former Interim Vice President for University Relations Peter Johnson.
University of North Dakota, BA Communications, 1998.