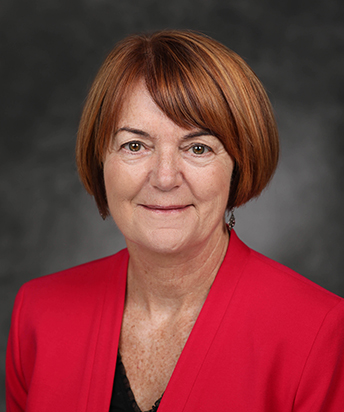 Gayle Roux
PhD, NP-C, FAAN
Office Address
Nursing Building
430 Oxford Street Stop 9025
Grand Forks, ND 58202-9025
Biography
Dr. Roux served as UND's College of Nursing & Professional Disciplines (CNPD) Dean from 2014 to December 2018. She stepped down as dean and currently serves as Senior Associate to the Interim Dean. She is committed to extending the College's exceptional record of educating and developing outstanding professionals to serve the citizens of North Dakota and beyone. Dr. Roux's goals for the College include steering programs through successful accreditation, and she is currently a lead author for the upcoming CCNE accreditation report. Dr. Roux is focused on advancing the CNPD mission to prepare future leaders and improve health outcomes for the nation.
Dr. Roux's program of research is focused on inner strength in women living with chronic health conditions. Her work has been published multiple peer-reviewed journals over her career. She has edited and authored numerous chapters and books related to both her research and nursing practice.
In addition to successes in scholarship and teaching, Dr. Roux has an extensive history of service in upper administrative positions. She has served as Interim Dean and as Associate Dean for Research and Clinical Scholarship at Texas Women's University and as Associate Dean for Faculty at Loyola University Chicago.
Dr. Roux enjoys the outdoors, with a passion for cycling and hiking. She greatly enjoys the Grand Forks Greenway.
Over the last twenty years Dr. Roux and coauthor, Dr. Catherine Dingley, have developed a middle range theory on Inner Strength in Women. The qualitative findings of this research program have been used to develop items and conduct psychometric testing of an instrument, Inner Strength Questionnaire (ISQ). The theory and instrument have been used by other researchers nationally and internationally. Further information on the ISQ, a public domain instrument available for further research studies, can be found at The Repository @ TWU library https://twu-ir.tdl.org/twu-ir/handle/11274/453.
Earlier in her career she completed a NIH Building Interdisciplinary Research Careers in Women's Health (BIRCWH) research fellowship at Virginia Commonwealth University and she remains an advocate for interprofessional research teams. Dr. Roux collaborates on a research team on the meaning of quality of life and inner strength in women and their families managing chronic conditions such as diabetes and depression. This research was published in Canadian Journal of Nursing Research:
Ridosh, M., Roux, G., Meehan, M. & Penckofer, S. (2017). Barriers to Self-Management in Depressed Women with Type 2 Diabetes. Canadian Journal of Nursing Research, 49(4), 160-169. doi: 10.1177/0844562117736699.
National Awards
AJN Book of the Year Award 2017, Third Place in the category of Professional Issues. Roux, G. & Halstead, J. (Eds.). (2018)). Issues and trends in nursing. Practice, policy, and leadership (2nd Ed.). Sudbury, MA: Jones & Bartlett Publishers.
Selected as Fellow for the American Academy of Nursing (FAAN) inducted October 15, 2011.
Nominated for the Association of Women's Health, Obstetric, and Neonatal Nursing (AWHONN) Award of Excellence in Research, February, 2000.
Regional Awards
Appointed North Dakota Governor's Nursing Faculty Finance Subcommittee, 2018.
Selected for APRN Legislative Initiative Taskforce. Advisory committee representative for nursing education to provide guidance for APRN Texas legislation. 2014.
"Great 100 Nurses." Texas Nurses Association. Selected by a peer-reviewed process as one of the great 100 nurses of the year. 1992.
"Unsung Hero Award" as volunteer nurse practitioner at Fan Free Clinic, Richmond, VA. December, 2003.
PhD 1993 Nursing, Texas Woman's University, Denton, TX
MS 1988 Nursing, Texas Woman's University, Dallas, TX
BSN 1980 Nursing, University of Nebraska, Omaha, NE
Dissertation
Phenomenological Study: Inner Strength in Women with Breast Cancer December 1993; Dr. Patsy Keyser, Chair
Postdoctoral Training and Certification
2001: Building Interdisciplinary Research Careers in Women's Health Scholar, National Institute of Health, Institute of Women's Health, Virginia Commonwealth University
2000: Family Nurse Practitioner, Post Master's Certificate, University of Southern Indiana
American Academy of Nurse Practitioners Board Certification 2000-Current
Registered Nurse and Family Nurse Practitioner (Texas) Current
Clinical Nurse Specialist Maternal-Child Health (Texas) Current
Editorial Board. Editorial Board Member, Canadian Journal of Nursing Research, 2016 - present.
American Association Colleges of Nursing State Grassroots Liaison, 2014 – present
Fellow American Academy of Nursing, Women's Health Expert Panel and Primary Care Expert Panel