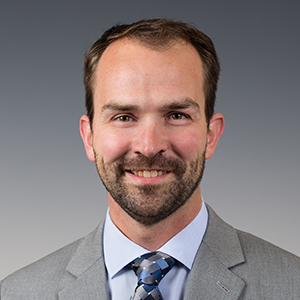 Josh Strege
BS, MS Chemical Engineering
Assistant Director for Energy Systems,

EERC
Office Address
EERC
15 North 23rd Street Stop 9018
Grand Forks, ND 58202-9018
Biography
Joshua R. Strege is Assistant Director of Energy Systems at the EERC, where he leads a multidisciplinary team of engineers and scientists in evaluating and demonstrating energy processes from the initial modeling phase through physical testing at the bench, pilot, and demonstration scales. His team's efforts include CO2 capture and transport; process modeling and techno-economic analysis; gasification and combustion technology development and demonstration; and other energy conversion technologies.
Mr. Strege holds M.S. and B.S. degrees in Chemical Engineering from UND. Prior to his current position, he served as a Principal Process Engineer at the EERC and as a Project Manager and Senior Engineer at Cirrus Aircraft.
Mr. Strege's principal areas of interest and expertise include biomass and fossil fuel conversion for energy production, with an emphasis on CO2 capture and storage in power generation and in industrial applications. He is certified in Aspen Plus and Aspen HYSYS and is proficient in process modeling and techno-economic assessments. He also has significant experience in the design, fabrication, and operation of bench- and pilot-scale equipment for combustion, gasification, synthetic and renewable fuel production, and CO2 capture.