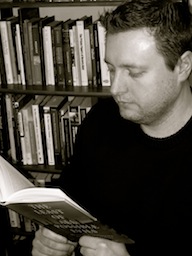 Lucian Stone
Chair / Associate Professor,

Philosophy & Ethics
Office Address
Gamble Hall Room 365I
293 Centennial Drive Stop 7128
Grand Forks, ND 58202-7128
PHIL 101 Introduction to Philosophy
PHIL 120 Introduction to Ethics
PHIL 130 Introduction to Political Philosophy
PHIL 300 History of Philosophy I: Ancient/Modern
PHIL 300 History of Philosophy II: Medieval/19th Century
PHIL 304 Existentialism & Phenomenology
PHIL 310 Philosophy of Art, Literature, and Film
PHIL 315 Philosophy of Race and Postcolonialism
PHIL 331 Contemporary European Philosophy
Ethics, Social-Political Philosophy, Postcolonialism, Continental Philosophy, History of Philosophy, Islamic and Middle Eastern Philosophies (esp. Iranian Intellectual History), Mystical Literature and Philosophy (esp. Sufism), Philosophy of Literature, Philosophy of Art
BOOKS
Co-edited with Jason Mohaghegh: Manifestos for World Thought (Rowman & Littlefield International, 2017).
Edited, Iranian Identity and Cosmopolitanism: Spheres of Belonging (Bloomsbury, 2014).
Coauthored with A. Rebecca Rozelle-Stone, Simone Weil and Theology (Bloomsbury, 2013).
Edited, Dead Man's Shadow: Collected Poems of Leonardo P. Alishan, with an Afterword by M. R. Ghanoonparvar (Costa Mesa, CA: Blind Owl Press / Mazda Publishers, 2011).
Co-edited with A. Rebecca Rozelle-Stone, The Relevance of the Radical: Simone Weil 100 Years Later (London: Continuum, 2010).
Co-edited with Lewis E. Hahn, and Randall E. Auxier, The Philosophy of Seyyed Hossein Nasr, Library of Living Philosophers Vol. XXVIII (LaSalle, IL: Open Court Press, 2001).
EDITED BOOK SERIES
Series Co-editor, Suspensions: Contemporary Middle Eastern and Islamicate Thought (Continuum/Bloomsbury Press)
Series Co-editor, Contemporary Continental Ethics (Edinburgh University Press)
ARTICLES
Most recent: "An Ethic of Refusal: Simone Weil and the Choice of the Lesser 'Lesser Evil,'" Philosophical Investigations 43:1 (January 2020).
Ph.D. (Philosophy), Southern Illinois University Carbondale