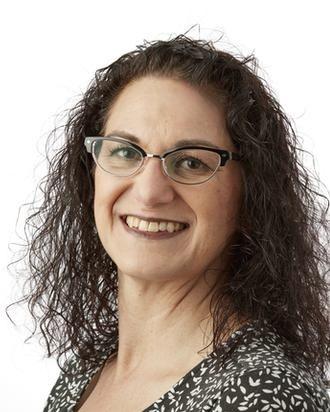 Michelle M Sauer
PhD
Chester Fritz Distinguished Professor,

English

medieval studies; gender/queer theory; linguistics; paleography/manuscript studies; early Christianity
Office Address
Gamble Hall Room 220C
293 Centennial Drive Stop 7209
Grand Forks, ND 58202-7209
Office Hours
Tuesdays/Thursdays 1:00-2:00p
Wednesdays 2:00-3:00 (via Zoom)
By appointment.
Curriculum Vitae
Biography
Although I was born in California, I was raised in North Dakota from age 6 months on, and consider it my home state. My mother grew up on a farm in the middle of the state (Kidder County). My father was from the Punjab region of India. Otherwise, I was raised in a household headed by two women in Fargo and attended local Catholic schools, St. Anthony, Nativity, and Shanley, for grades K-12. Yes, there were a few of us non-white people in ND in the 80s. And yes, my school life was "interesting" because of my background. I like to think my personal story contributes to my views of diversity and inclusivity in the classroom and community.
I was always torn between my love of science and my love of old languages and literatures. I chose Purdue (in the middle of Indiana cornfields) for my undergraduate experience because I was a Physics major and they have a particle accelerator. When I made the switch to medieval studies, I was equally lucky because Purdue has a program in that as well. I firmly believe the sciences and Humanities should comfortably co-exist and support each other. Pursuing my graduate education led me first to Chicago (lunch at the Sears Tower! Shedd Aquarium! Art museums!), and then to the state of Washington (apples and lentils and rain). Eventually, I ended up back home in North Dakota (wheat, more wheat, and sugar beets). My first job out of graduate school was as a professor at Minot State University, where I founded the state's first Gender Studies program and taught the state's first Queer Theory course. I made the move to UND in 2008, where I teach medieval literature, linguistics, and queer theory.
Outside of the university setting, I am married and have cats. I enjoy listening to Goth, Metal, Punk, and Industrial music, wearing black, being sarcastic, watching Star Trek (TOS preferred), and playing video games. Winters are fine. I love gourmet cooking and am a bit of an enophile. And of course I love reading books, preferably with a cat on my lap. (If it happens to be a horror or fantasy novel, so much the better.)
Fall 2023: ENGL 369 (undergraduate): Pre-modern World Epics TR 11:00-12:15
ENGL 531 (graduate): Medieval Women & Early Christianity R 3:30-6:00
Spring 2024: ENGL 442 History of the English Language MW 1:25-2:40
ENGL 415 Queer Theory and Pre-modern Literature MW 3:00-4:15
Medieval Christian devotional literature, specifically anchorites and hermits, with a focus on women's literature and gender issues. Monasticism and monastic Rules. Hagiographies and saints' lives. Queer theology and applications. Critical race theory and the Middle Ages, particularly its intersections with gender and sexuality. History of Sexuality, especially female same-sex relationships. Medieval scribal and reading practices. Paleography, archival, and manuscript studies, especially Middle English and medieval Latin. Spatial and architectural criticism, particularly its connections with gender and sexuality. Old Norse, including Icelandic, religion and literature. Monastic culture of the greater Northwest Atlantic region, with a special focus on Birgitta of Sweden. Historical linguistics, principally in relation to religious and gender issues.
Significant publications (see cv for complete list):
The Palgrave Encyclopedia of Medieval Women's Writing in the Global Middle Ages, Co-Editor-in-Chief with Diane Watt (University of Surrey) and Liz Herbert McAvoy (Swansea University). Palgrave, ongoing online.
The Routledge Handbook of Medieval European Women and Christianity. With Jenny C. Bledsoe. Routledge, 2026. [forthcoming]

The Materiality of Middle English Anchoritic Devotion. With Jenny C. Bledsoe. ARC Humanities Press, 2021.
Materiality, Embodiment, and Enclosure in Medieval Religious Culture (1080 – 1530). With Joshua S. Easterling. Boydell & Brewer, 2024. [forthcoming]

Gender in Medieval Culture. (Key Themes in History) Bloomsbury, 2015.
How to Write About Chaucer. (Harold Bloom's How to Write About Literature series) Chelsea House, 2009.
The Lesbian Premodern. With Noreen Giffney and Diane Watt. Palgrave (New Middle Ages Series), 2011.
"Framing Materiality: Relic Discourse and Medieval English Anchoritism." Early Middle English. 3.1(2021): 51-70.
"Race and Gender." Co-authored with Dorothy Kim. In A Cultural History of Race in the Renaissance and Early Modern Age (1350 - 1550). Ed. Dorothy Kim and Kim Coles. Bloomsbury, 2021.
"Amazed & Ravished in the Medieval Garden: The Space of Lesbian Desire." In Gender and the "Natural" Environment in the Middle Ages: Bodies, Boundaries and Belief, eds. Theresa Tyers and Patricia Skinner. University of Wales Press, 2023. 119-140.
"Anchoritic Interplay between Jan van Ruusbroec's The Spiritual Espousals and its Contribution to The Chastising of God's Children." In "Giving Voice to Silence": Essays in Honour of Catherine-Innes Parker. Eds. Liz Herbert McAvoy, Cate Gunn, and Naoe Kukita Yoshikawa. Boydell & Brewer, 2023. 242-259.
"Ancrene Wisse, the Katherine Group, and the Wooing Group as Textual Communities, Medieval and Modern." In Women and Medieval Literary Culture from the Early Middle Ages to the Fifteenth Century. Ed. Corinne Saunders and Diane Watt. Cambridge University Press, 2023. 83-103.
"Lithic Agency and Generative Functions of Crystals in The Revelations of St Birgitta: Books 1 and 3." In Devotion, Materiality, and Reclusion in Medieval Europe (1080 – 1400). Ed. Michelle M. Sauer and Joshua Easterling. Boydell & Brewer, 2024. [forthcoming]
"The Meaning of Russet: A Note on Vowesses and Clothing." Early Middle English 2.2(2020): 91-97.
"Queer Time & Lesbian Temporality in Medieval Women's Encounters with the Side Wound." In Medieval Futurity. Ed. Christopher Michael Roman and Will Rogers. ARC Humanities Press, 2020. 199-219.
"The Function of Spiritual and Material Roads in the English Reclusive Tradition." In Medieval Roads. Eds. Valerie J. Allen and Ruth Evans. Manchester University Press, 2015. 157-76.
"Divine Orgasm and Self-Blazoning: The Fragmented Body of the Female Medieval Visionary." In Sexuality, Sociality and Cosmology in Medieval Literary Texts. Eds. Jennifer N. Brown and Marla Segol. Palgrave, 2013. 123-43.
"Devotional Literature: Performance & Performativity." In The History of British Women's Writing: Volume 1, 1350-1500. Eds. Diane Watt and Liz Herbert McAvoy. Palgrave, 2011. 103-111.
"Privacy, Exile, and the Rhetoric of Solitude in the Middle English Anchoritic Tradition." The Rhetorics of Anchoritism. Ed. Liz Herbert McAvoy. University of Wales Press, 2008. 96-110.
"Audiotactility & The Medieval Soundscape of Parchment." Sounding Out!: A Peer-Reviewed Sound Studies Blog (Special Issue on Medieval Sound) [October 17, 2016] <https://soundstudiesblog.com/2016/10/17/audiotactility-the-medieval-soundscape-of-parchment/>
"Extra-Temporal Place Attachment & Adaptive Reuse: The Afterlives of Medieval English Anchorholds." Studies in Medievalisms XXV(2016): 173-96.
"Touching Jesus: Christ's Side Wound & Medieval Manuscript Tradition." Women's Literary Culture and the Medieval Canon. A peer-reviewed blog. [January 2016] <http://blogs.surrey.ac.uk/medievalwomen/2016/01/05/touching-jesus-christs-side-wound-medieval-manuscript-tradition/>
"Architecture of Desire: Mediating the Female Gaze in the Medieval English Anchorhold." Gender & History. 25.3(2013): 541-60.
"Uncovering Difference: Encoded Homoerotic Anxiety within the Medieval English Eremitic Tradition." Journal of the History of Sexuality. 19.1(2010): 133-52.
"'Where are the Lesbians in Chaucer?': Lack, Opportunity, & Female Homoeroticism in Medieval Studies Today." The Journal of Lesbian Studies. 11.3/4(2007): 331-45.
"Representing the Negative: Positing the Lesbian Void & Medieval English Anchoritism." thirdspace 3.2(2004): 70-88 [print], 26 par. [web]. <http://journals.sfu.ca/thirdspace/index.php/journal/article/viewArticle/sauer>
Upcoming presentations (see cv for previous ones):
"Birgitta and Blackness: Racialized Language in the Middle English Translations of The Revelations." New Chaucer Society Conference. Pasadena, CA. July 2024.
Plenary Address. Title TBA. [topic: post-medieval anchorites] Co-presented with Liz Herbert McAvoy. International Anchoritic Society Conference. Boston, MA. September 2024.
Awarded Chester Fritz Distinguished Professorship, UND, 2020.
Scholarly Achievement Award, Southeastern Medieval Association 2022. <https://blogs.und.edu/uletter/2022/11/michelle-m-sauer-receives-award-for-scholarly-achievement-from-southeastern-medieval-association/>
Thomas J. Clifford Faculty Achievement Award for Individual Excellence in Research, UND, 2016.
Best Reference Text of the Year. Awarded by Booklist. Companion to British Poetry before 1600. 2008. <https://www.booklistonline.com/Booklist-Editors-Choice-Reference-Sources-2008/pid=3148353>
LGBT-Religious Archives Network prize, December 2005. For: "Representing the Negative: Positing the Lesbian Void & Medieval English Anchoritism."
Women of Distinction Award (Professional category). YWCA. 2005.
The Lesbian Pre-modern (co-edited with Diane Watt & Noreen Giffney), nominated for a Lambda Literary Award in 2011.
Secondary Education Teacher Certification (grades 5-12) [State of Indiana license]
PhD Washington State University 2000
MA Loyola University Chicago 1995
BA Purdue University 1993
University of North Dakota: Chester Fritz Distinguished Professor (2020-present), Professor of English (June 2011-present); Associate Professor of English (August 2008-June 2011); Women/Gender Studies Affiliate (2008-present)
Minot State University: Associate Professor of English (July 2005-July 2008); Assistant Professor of English (August 2000-June 2005); Coordinator, Gender/Women's Studies Program (2002-2008)
President, International Anchoritic Society
Steering Committee, Medievalists of Color organization (2020-2023)
Medieval Association of America, Nominating Committee (elected position), 2023-2026.
Series Co-editor (with Will Rogers), New Queer Medievalisms, Medieval Institute Publications <https://wmich.edu/medievalpublications/books/new-queer-medievalisms>
Series Co-editor (with Sarah Salih and Hetta Howes), Devotional Literatures & Culture in the Medieval World. Boydell & Brewer.

Editorial Advisory Board member, book series: The Medieval World. Bloomsbury Academic.
Academic Board, Female Religious Engagement in Late Antiquity, Middle Ages and Early Modernity. Brepols.
Steering Committee, Electronic Canterbury Tales Project. Hosted by the University of Lethbridge, Alberta. <https://textualcommunities.org/app/community/?id=5aaa517f8d92a41bfffafacc&route=view&document=5d4448772335e070c676ef97&page=5d444867d8f0ec0000133e93>
Associate Editor, Journal of Medieval Worlds. [journal re-start in progress]
Managing Editor, Medieval Feminist Forum (June 2004-May 2009); Society for Medieval Feminist Scholarship
I am cat obsessed. Currently, I own two lovely purebred felines: a silver Egyptian Mau (named Gawain) and a champagne point Tonkinese (named Hadwisa). I have never been without a cat during my entire life. In fact, I had a gorgeous Burmese (named Jezebel) as my babysitter when I was a baby! Throughout the years, I have had several Siamese (seal point, flame point, and lavender point), a couple Himalayans, and even a Persian. As you can probably guess, I like to own fancy cats--but I love each and every feline out there no matter its color and breed. Some even call me "the cat whisperer." I am currently the youngest member of the F-M Cat Club and help host cat shows at the Red River Fairgrounds, too, where I can pet as many cats as my heart desires.
I am a very active scholar and always have numerous projects in progress. However, my biggest undertakings right now are:
1. Finalizing an interactive Arc GIS map of the anchorholds of the Northwest Atlantic. I have been working on this project since 2015, and am nearing completion of the trial run.
2. Co-editing, with Jenny Bledsoe, The Companion to Sexuality in the Medieval West. This is essentially an updated take on the famous (and still incredibly useful) collection by Vern Bullough and James Brundage (U Chicago, 1996).
3. Editing the The Palgrave Encyclopedia of Medieval Women's Writing in the Global Middle Ages (with Diane Watt and Liz Herbert McAvoy). This will encompass hundreds of women from all around the globe.
4. Completing an electronic, searchable database of the extant manuscripts of the works of St Birgitta of Sweden. This project is in cooperation with David Carrillo-Rangel (University of Bergen).
5. An examination of scribal annotations and reading practices in St Birgitta of Sweden's Revelations.
6. Co-editing (with Dorothy Kim) the Cambridge Companion to Race and Christianity.
7. A new book project on solitary sexuality from the Classical period through the late Middle Ages.
I also have several edited collections and various monographs in progress. They span materiality, CRT and monasticism, and queer sex and solitaries.
In additional to teaching medieval studies and queer theory, I also serve as the department's linguist. Recently, Dr. Kim Donehower and I crafted a Linguistics minor and a Linguistics certificate that are available at the undergraduate level. You can find the requirements on the Department of English's homepage.
Courses include the regularly offered Modern Grammar, History of the English Language, and Introduction to Linguistics. Special topics courses, such as Old English (Language), Middle English (Language), Gender & Language, Syntax and Argumentation, etc. are offered as available in my schedule. Most of my personal focus is in the area of morpho-syntax, as you can see, but I occasionally dabble in sociolinguistics as intersections with gender, race, and sexuality.
The minor and certificate are also supported by the Languages Department and the department of Communication Sciences and Disorders.
If you have questions about course substitutions, the usefulness of these credentials, or anything linguistics related, please don't hesitate to stop by my office or to drop me an email.
As a graduate student in the early 1990s, I was educated in the midst of the birth of Queer Theory. I had been raised as a feminist and considered myself an outspoken advocate for gender equality across the board. So, the shift from Queer Theory to the broader field of Gender Theory was a welcome move. For example, my dissertation incorporated aspects of s/m theory into my gendered reading of identities within the medieval female anchoritic "community." I took these philosophical shifts to heart, and then put them into practice when I became a professor.
As you can see from my publications, Gender and Queer studies is a part of virtually all of my own research. I also focus on the intersections of gender with race, religion, space, history, and the material world. The study of gender, sexuality, and identity is integral to the study of the Middle Ages and beyond.
In 2002, I founded the first Gender/Women's Studies program in the state of North Dakota at Minot State University. (UND and NDSU both had Women's Studies, but did not expand to Gender Studies until later.) In the fall semester of 2004, I taught the first Queer Theory class in North Dakota. This was a watershed moment. The state registrar, for example, was deeply concerned about the ramifications of people having the word "queer" on their transcripts. Some of my initial students had to keep their enrollment in the class secret for fear of retaliation. At least one student's parents threated to pull their tuition money unless they dropped such "perverted" studies. We all survived, however, and now, 20 years later, the GWS program at Minot State is still going strong.
Here at UND, we tusseled for some time over whether or not to add "Gender Studies" to our program name. Eventually, however, the change was made, and we've built a stronger program as we've progressed. Right now, the WGS program is housed under the College of Arts & Sciences and offers an undergraduate certificate and as of fall 2022 will offer a major. Many of the classes we offer here in the English Department (including many of my own) are cross-listed with WGS. If you are interested in the program, please don't hesitate to come in and talk to me!