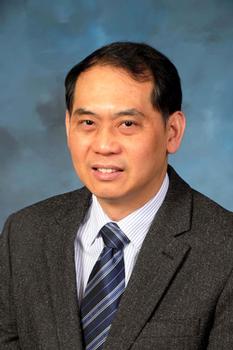 Saobo Lei
Ph. D.
Professor,

Biomedical Sciences

Neurotransmitters, Neuropeptides, Synaptic transmission and plasticity, Ion channels, Learning and memory, Epilepsy, Anxiety, Schizophrenia, Alzheimer's disease, Autism, Hippocampus, Entorhinal Cortex, Interneuron, Patch-clamp, Electrophysiology
Office Address
Neuroscience Building Room 148
504 Hamline Street Stop 9061
Grand Forks, ND 58203-9061
We use a variety of techniques including electrophysiology, immunocytochemisty, imaging, optogenetics, tissue culture, molecular biology and in vivo physiology and animal models to study the functional changes of the central nervous system in physiological and pathological conditions. Our current research interests include:
Modulation of synaptic transmission and plasticity in the hippocampus and entorhinal cortex. Using infrared video microscopy and patch-clamp recording techniques, we are able to record the synaptic activity or ion channel currents from visually identified neurons in slices. The synaptic activities and ion channel functions are modulated by numerous modulators including neurotransmitters and neuropeptides. We are exploring the underlying cellular and molecular mechanisms using molecular biology, pharmacology and transgenic animal models.
The functional changes of neurons induced by the neurotransmitters and neuromodulators are likely to be responsible for a variety of physiological functions such as learning and memory or clinical disorders including epilepsy, anxiety, Alzheimer's disease, schizophrenia and autism. We are using in vivo disease models to study the roles of these neuromodulators in these clinical disorders. Our research would likely to provide clues at the molecular and cellular levels to treat neurological diseases.
Selected Publications:
Zhang H, Dong H, Lei S. Neurotensinergic Facilitation of Glutamate Release by Increasing the Readily Releasable Pool Size and Releasing Probability. Neuropharmacology 95:252-260, 2015
Xiao Z, Cilz NI, Kurada L, Hu B, Yang C, Wada E, Combs CK, Porter JE, Lesage F, Lei S. Activation of neurotensin receptor 1 facilitates neuronal excitability and spatial learning and memory in the entorhinal cortex: beneficial actions in an Alzheimer's disease model. Journal of Neuroscience 34:7027-7042, 2014
Cilz NI, Kurada L, Hu B, Lei S. Dopaminergic modulation of GABAergic transmission in the entorhinal cortex: concerted roles of α1 adrenoreceptors, inwardly rectifier K+ and T-type Ca2+ channels. Cerebral Cortex 24:3195-3208, 2014
Zhang HP, Xiao ZY, Cilz NI, Hu B, Dong H, Lei S. Bombesin facilitates GABAergic transmission and depresses epileptiform activity in the entorhinal cortex. Hippocampus 24:21-31, 2014
Ramanathan G, Cilz NI, Kurada L, Hu B, Wang X, Lei S. Vasopressin facilitates GABAergic transmission in rat hippocampus via activation of V1A receptors. Neuropharmacology 63:1218-1226, 2012
Wang S, Chen X, Kurada L, Huang Z, Lei S. Activation of Group II Metabotropic Glutamate Receptors Inhibits Glutamatergic Transmission in the Rat Entorhinal Cortex via Reduction of Glutamate Release Probability. Cerebral Cortex 22:584-594, 2012
Deng PY, Xiao Z, Jha A, Ramonet D, Matsui T, Leitges M, Shin HS, Porter JE, Geiger JD, Lei S. Cholecystokinin Facilitates Glutamate Release by Increasing the Number of Readily Releasable Vesicles and Releasing Probability. Journal of Neuroscience 30:5136-5148, 2010
Deng PY, Xiao Z, Yang C, Rojanathammanee L, Grisanti L, Watt J, Geiger JD, Liu R, Porter JE, Lei S. GABAB receptor activation inhibits neuronal excitability and spatial learning in the entorhinal cortex by activating TREK-2 K+ channels. Neuron 63: 230-243, 2009
Xiao Z, Deng PY, Rojanathammanee L, Yang C, Grisanti L, Permpoonputtana K, Weinshenker D, Doze VA, Porter JE and Lei S. Noradrenergic depression of neuronal excitability in the entorhinal cortex via activation of TREK-2 K+ channels. Journal of Biological Chemistry 284: 10980-10991, 2009
Deng PY, Porter JE, Shin HS, Lei S. Thyrotropin-releasing hormone increases GABA release in rat hippocampus. Journal of Physiology 577:497-511, 2006
Postdoctoral training, University of Toronto, National Institutes of Health
PhD Pharmacology, University of Alberta
MS Pharmacology, Sun Yat-sen University
MD Medicine, Sun Yat-sen University