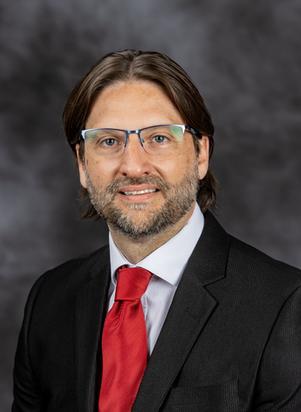 Francisco Del Canto Viterale
Assistant Professor,

Space Studies

Social Space Studies; International Scientific Relations; International Space Relations; Geopolitics of Space; Space Security; Space Diplomacy; Space Cooperation; Systems Models; Interdisciplinary Approach
Office Address
Clifford Hall Room 516
4149 University Ave Stop 9008
Grand Forks, ND 58202-9008
Biography
Dr. Del Canto Viterale currently serves as an Assistant Professor in the Department of Space Studies in the John D. Odegard School of Aerospace Sciences at the University of North Dakota. Also, he is the Director and Visiting Professor of the MA Program in Science, Technology and Global Affairs at the University of Salamanca (Spain).

His core area of knowledge is Social Science, and his area of specialization is the intersection between Science, Technology, and Innovation (STI) and International Relations (IR) with special emphasis on International Space Relations, Space Policy, and Space Diplomacy.
Dr. Del Canto Viterale has been working in academia for over 20 years in several countries. A substantial portion of his academic work has involved researching and teaching Social Science and Space Studies. He has extensive experience teaching both undergraduate and graduate courses in a wide variety of topics within Social Science, International Relations, and Space Studies (International Relations, Political Science, Sociology, Science & Technology Policy and Diplomacy, Space Policy and Diplomacy, International-Economy, Advanced Social Research Methods, etc.)  
Dr. Del Canto Viterale has conducted research for over twenty years in topics related to International Scientific Relations, Science and Innovation Policy, International Space Relations, Science and Space Diplomacy, and Systems Modeling. Because of his research work, Dr. Del Canto Viterale has published an innovative book called  "International Scientific Relations" where summarized 15 years of research work. Additionally, he has published several methodological and theoretical journal articles related to those issues.
Dr. Del Canto Viterale received his Ph.D. in International Studies from the University of Deusto (Spain) in January 2014, and he was a Postdoctoral Researcher in the Systems Institute at Johns Hopkins University and Massachusetts Institute of Technology (2014-2016). Prior to his doctorate, he earned a Bachelor of Science in International Relations (1998), a Post-Graduate in International Affairs and Diplomacy (1999) in Argentina, and a Masters in International Migrations, Cooperation and Conflict (2011) in Spain.
SpSt 450 - International Space Programs
SpSt 553 - Space Diplomacy and Space Cooperation
SpSt 360 - NASA
SpSt 551 - History of Space Age
SpSt 562 - Soviet/Russian Space Program
SpSt 540 - Space Economics and Commerce
SpSt 570 - Geopolitics of Outer Space
SpSt 570 - China's Space Program
Social Space Studies
International Scientific Relations
International Space Relations
Geopolitics of Space
International Space Cooperation
Space Diplomacy
Space Hubs
Space Policy
Global Space Economy
Comparative Politics
Critical Thinking
Systems Models
Interdisciplinary Approach
Social Science Methods
Selected Publications:
Del Canto Viterale, F. (2023) Transitioning to a New Space Age in the 21st Century: A Systemic-Level Approach, Systems, 11, 5, p. 232
Del Canto Viterale, F. (2021) International Scientific Relations. London: Anthem Press
Del Canto Viterale, F. (2020) Building Bridges Between Science, Technology, Innovation, and Global Affairs: A New Graduate Program. Global Research in Higher Education, Vol. 3, No. 4 December 2020.
Del Canto Viterale, F. (2019) Developing a Systems Architecture Model to Study the Science, Technology, and Innovation in International Studies. Systems-MDPI, 2019, 7, 46.
Del Canto Viterale, F. (2019) Relaciones Científicas Internacionales: Ciencia, Tecnología e Innovación en el sistema internacional del siglo XXI. Roma: Aracne Editrice
Del Canto Viterale, F. (2018) University as a global actor in the international system of the 21st Century. Tuning Journal for Higher Education, Vol 6, No 1 (2018).
Del Canto Viterale, F. (2013) Systemic Perspective of the International Structure of Scientific Knowledge. New Atlantis, n.2, 2013.
Del Canto Viterale, F. (2013) Nueva estructura geopolítica y geoeconómica del conocimiento científico. Revista Vasca de Sociología y Ciencia Política, ISSN 0214-7912, N.º 55-56, 2013, págs. 1574-1594.
Del Canto Viterale, F. (2011) New Migratory Era. In: INTERNATIONAL COUNCIL OF THE UNIVERSITIES OF SAINT THOMAS AQUINAS (ICUSTA). (2011). Globalization: An Interdisciplinary Perspective. (pp. 81-117). La Roche Sur Yon: Institut Catholique d'Études Supérieures.
Post-Doctoral Researcher 2016, Johns Hopkins University and Massachusetts Institute of Technology, US
Ph.D. 2014, International Studies, University of Deusto, Spain
M.A. 2011, International Migration, Cooperation and Conflict, University of Deusto, Spain
Post Graduate 1999, Pedagogy in International Affairs and Diplomacy, University of Salvador, Argentina
B.A. 1998, International Relations, University of Salvador, Argentina