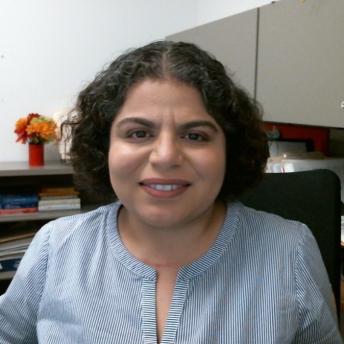 Gunjan Manocha
Assistant Professor,

Geriatrics

Director of Geriatric Education
Office Address
School of Medicine & Health Sciences Room E275
1301 North Columbia Road Stop 9037
Grand Forks, ND 58202-9037
Biography
I serve as Associate Program Director for Dakota Geriatrics, the HRSA funded Geriatrics Workforce Enhancement Program. Our mission is to incorporate best practices of geriatrics care in the curriculum of healthcare trainees and professionals. I'm a biomedical scientist by training. My research has included understanding and identifying inflammatory mechanisms underlying neurodegenerative disorders for many years. For the department of Geriatrics, I serve as the Director of Geriatric Education and my primary role is curricular development and research mentorship of Geriatric Medicine Fellowship program's clinical fellows, Medical Students in Aging Research (MEDSTAR) program Interns and other trainees in the department.
Current Research Interests: Alzehiemer's Disease, Microglia, Neuroinflammation, Brain-Gut Interations, Gut Microbiome, Intestinal Pathology of AD
Current Teaching Role: Research Mentor for fellows and medical trainees, Curriculum development in Geriatrics for UND SMHS.
Jurivich D, Manocha G, Trivedi R, Lizakowski M, Rakoczy S, Brown-Borg, H, Multi-factorial attenuation of the murine heat shock response with age, Journal of Gerontology, 2019
Jurivich D, Manocha GD, Opinion- Is Twitter the new way to learn? Journal of Investigative Surgery, 2019, 6, 1-2
Manocha GD, Floden AM, Miller NM, Smith AJ, Nagamoto-Combs K, Saito T, Saido TC, Combs CK, Temporal Progression of Alzheimer's Disease in Brains and Intestines of Transgenic Mice, Neurobiology of Aging, 2019, in press
Kulas JA, Franklin W, Smith NA, Manocha GD, Puig KL, Nagamoto-Combs K, Hendrix RD, Taglialatela G, Barger SW, Combs CK, Ablation of Amyloid Precursor Protein Increases Insulin Degrading Enzyme Levels and Activity in Brain and Peripheral Tissues, Am J Physiol Endocrinol Metab. 2018 Nov 13. doi: 10.1152/ajpendo.00279.2018
Gunjan Manocha, Atreyi Ghatak, Kendra Puig, Colin Combs, Anti-?4?1 integrin antibodiesattenuated brain inflammatory changes in a mouse model of Alzheimer's disease, , Current Alzheimer's Research, July 2018
Joshua Kulas, Jodan Hettwer, Mona Sohrabi, Justin Melvin, Gunjan Manocha, Kendra Puig, Matthew Gorr, Vineeta Tanwar, Michael McDonald, Loren Wold, Colin Combs, In utero exposure to fine particulate matter results in an altered neuroimmune phenotype in adult mice, , Environmental Pollution, in press 2018
Gunjan D. Manocha, Atreyi Ghatak, Kendra L. Puig, Susan D. Kraner, Christopher M. Norris and Colin K. Combs, NFATc2 Modulates Microglial Activation in the A?PP/PS1 Mouse Model of Alzheimer's Disease, Journal of Alzheimer's Disease, 2017, 58, 775
Gunjan Dhawan Manocha, Angela Marie Floden, Kendra Lynn Puig, Kumi Nagamoto-Combs, Clemens R. Scherzer and Colin Kelly Combs, Defining the contribution of neuroinflammation to Parkinson's disease in humanized immune system mice, Molecular Neurodegeneration, 2017, 12, 17
Gunjan D. Manocha, Angela M. Floden, Keiko Rausch, Joshua A Kulas, Brett A McGregor, Lalida Rojanathammanee, Kelley R. Puig, Kendra L. Puig, Sanjib Karki, Michael R. Nichols, Diane C. Darland, James E. Porter, Colin K. Combs, APP regulates microglial phenotype in a mouse model of Alzheimer's disease, J. Neuroscience, 2016, 36, 8471
Nagamoto-Combs K, Manocha GD, Puig K, Combs CK, An improved approach to align and embed multiple brain samples in a gelatin-based matrix for simultaneous histological processing, J Neurosci Methods, 2016, 261, 155
Manocha GD, Puig KL, Austin SA, Seyb K, Glicksman MA, Combs CK, Characterization of novel Src family of kinase inhibitors to attenuate microgliosis, Plos One 2015, 10, 10
Puig KL, Lutz BM, Urquhart SA, Rebel AA, Zhou X, Manocha GD, Sens M, Tuteja AK, Forster NL, Combs CK, Overexpression of Mutant Amyloid-? Protein Precursor and Presenilin 1 Modulates Enteric Nervous System, J Alzheimer's Dis, 2015, 44(4), 1263
Rojanathammanee L, Floden A, Manocha GD, Combs CK, Attenuation of microglial activation in a mouse model of Alzheimer's disease via NFAT inhibition, J Neuroinflammation, 2015, 12(1), 42
KL, Manocha GD, Combs CK, Amyloid Precursor Protein Mediated Changes in Intestinal Epithelial Phenotype in Vitro, Plos One, 2015, 10(3)
Manocha GD, Mishra R, Sharma N, Kumawat KL, Basu A, Singh SK, Regulatory role of TRIM21 in the type-I interferon pathway in Japanese encephalitis virus-infected human microglial cells, J Neuroinflammation, 2014, 11, 24
Dhawan G and Combs CK, Inhibition of Src kinase activity attenuates amyloid associated microgliosis in a murine model of Alzheimer's disease, J Neuroinflammation, 2012, 9(1), 117
Dhawan G, Floden A, Combs CK, Amyloid beta oligomers stimulate microglia through a tyrosine kinase dependant mechanism, Neurobiology of Aging, 2011, 33, 2247
Sondag CM, Dhawan G, Combs CK, Beta amyloid oligomers and fibrils stimulate differential activation of primary microglia, J Neuroinflammation. 2009, 6, 1
Dhawan G, Sumana G, Malhotra BD, Recent developments in urea biosensors, Biochemical Engineering Journal, 2009, 44, 42
2010 - 2012 ND EPSCoR Doctoral Dissertation Assistantship (DDA)
2011 "Young Investigator's Educational Enhancement" Travel Award by American Society for Neurochemistry (ASN).
2010 Summer Doctoral Fellowship by UND Graduate School.
2010 A. Roger Denison Award for oral presentation, Role of oligomer A? in tyrosine-kinase dependent stimulation of microglia in-vivo, at the North Dakota Academy of Sciences Meeting, Minot, ND.
2006 CSIR-UGC (NET) (India) Junior Research Fellowship (JRF) and Lectureship (LS) in Chemical Sciences.
2007-2011 Ph.D Department of Pharmacology, Physiology and Therapeutics, UND
2004-2006 Masters of Science Indian Institute of Technology (IIT Delhi), New Delhi, India
(M.Sc) Chemistry
2001-2004 Bachelors of Science Sri Venkateswara College, University of Delhi, Delhi, India
(B.Sc) Chemistry (Honors)
2018- Present Assistant Professor, Department of Geriatrics, University of North Dakota
2018- Present Director of Geriatric Education, Department of Geriatrics, University of North Dakota
2019- Present Associate Program Director, Dakota Geriatrics (HRSA-GWEP)
2014-2018 Post-Doctoral Fellow, Department of Biomedical Sciences, University of North Dakota
2013-2014 Research Associate, Centre for Cellular and Molecular Biology, Hyderabad, India
2007-2011 Graduate Research Assistant, School of Medicine and Health Sciences, University of North Dakota, ND