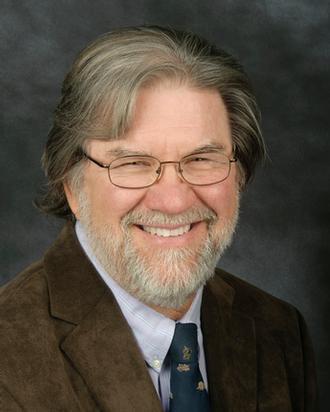 Joseph Hartman
Professor,

Geology & Geological Eng
Office Address
Leonard Hall Room 204
81 Cornell Street Stop 8358
Grand Forks, ND 58202-8358
Paleontology at UND
Biography
AREAS OF INTEREST AND EXPERTISE
Joseph's principal areas of interest and expertise focus on the physical and historical geology and stratigraphy of Upper Cretaceous and Paleogene strata of the northern Great Plains, with specialization in continental molluscan studies in the Western Interior of North America. He has authored and coauthored publications on these and other subjects. Emphasis includes research in molluscan taxonomy, biostratigraphy, and paleobiogeography; lignite stratigraphy; land–mammal biochronology; and computer applications in paleontology and stratigraphy, including data management and analysis, geographic information system (GIS) technologies, and photographic imaging.
Extensive molluscan collections, including specimens from the Upper Cretaceous and Paleogene strata of the Williston (North Dakota–Montana), Crazy Mountains (Montana), and San Juan (New Mexico) Basins are maintained for research in ongoing studies. International studies include paleobiogeographic and biochronologic research in Upper Cretaceous strata of Madagascar and India.
A project of public and educational interest is the Web-based geoscience digital image library GeoDIL. This project is a collaborative effort with UND's Harold Hamm School of Geology and Geological Engineering (Dexter Perkins and Joseph Hartman), and the John D. Odegard School of Aerospace Sciences (Henry Borysewicz). With funding from the National Science Foundation and the University of North Dakota, users can submit, search, browse, link, and construct virtual carousels of images in the library for educational purposes (see www.GeoDIL.com). This site, although still funcional, now requires a programming upgrade.
Joseph has supported his research and undergraduate and graduate student education through grants and contracts from the National Science Foundation, U.S. Bureau of Mines, U.S. Department of Energy, U.S. Geological Survey, National Geographic Society, and donor support. Dr. Hartman is a member of several professional organizations, including the Geological Society of America, Paleontological Society, Society of Vertebrate Paleontology, American Association of Petroleum Geologists, and SEPM, Sigma Xi, and is past president of the North Dakota Academy of Science.
TEACHING (GENERAL)
Joseph teaches courses in 1) paleontology, including Introduction to Paleontology, Critical Boundaries, Mass Extinctions, Special Preservation, Invertebrate Paleontology (Sections 1, 2, 3), Vertebrate Paleontology (Sections 1, 2, 3), Paleoecology, Paleontology in the Geological Sciences, Museum Studies, Taxonomy; 2) stratigraphic paleontology and geologic history, including Geology of North Dakota, Western Continental Stratigraphy, Advanced Stratigraphy; 3) Earth history and history of geology. including Earth Through Time, History of Geology (Steno, his life and times); and 4) critical thinking and communication, including Critical Thinking in the Geosciences, Humor in Geoscience, Geoscience Lectures, Seminar I, II, and Surviving on Planet Earth. Specialized courses have included the Geology of India, the Vanuatu Archipelago, and mollusk-related projects.
Joseph Hartman is a Chester Fritz Distinguished Professor in the Harold Hamm School of Geology and Geological Engineering and member of the Graduate Faculty at the University of North Dakota (UND). He received his Ph.D. in Geology from the University of Minnesota in 1984, his M.S. in Geology from the same institution in 1976, and his B.S. (with honors) in Geology from the University of Wisconsin-Milwaukee in 1972.
Paleo Background
The undergraduate and graduate paleontology program at the University of North Dakota (UND) has a long history of excellence (see Paleo Theses and Dissertations available under F.D. Holland Jr Geology Library). Since January 2001, the program has been under the direction of Joseph Hartman. Joseph was not new to the program at that time, as an adjunct member of the faculty in that he had been involved in the funding and supervision of undergraduate and graduate students since 1988 through his research at the Energy & Environmental Research Center (EERC) at UND. As a Chester Fritz Distinguished Professor, Joseph has charge of the Harold Hamm School of Geology and Geological Engineering Paleontology program and collection in cooperation with the North Dakota Geological Survey and other interested paleo groups in North Dakota. Joseph looks forward to expanding the program to include student over a broad range of paleontological interests.
Mission Statement
No matter the words used to describe the study of fossils (paleontology, paleobiology, biostratigraphy, paleoecology, paleobiogeography, etc.), the range and intensity of interest in the subject have never been greater. Regardless of the ups and downs of potential employment by industry, museums, or academia, the study of fossils and their associated information and potential for interpretation draws people in regardless of age. Paleontology, as the umbrella term for fossil studies, may be unique in the science disciplines because of its broad appeal and ability to be enjoyed at so many levels. The mission of the paleontology program at the UND is to provide a basis for extending this level of interest and excitement to a higher level of scholarship and curiosity. UND's program is both traditional (in the best sense of the word) and forward-looking. The program encourages a field approach to observation, but promotes laboratory analysis based on hypothesis construction and testing. Collaborative studies with other geological disciplines are also encouraged. Joseph Hartman's research interests began with, and continue developing projects with other paleontologists, geologists, and neontologists to provide a more comprehensive approach to interpreting Earth history. Students with collaborative interests will be actively supported through undergraduate and graduate degree programs.