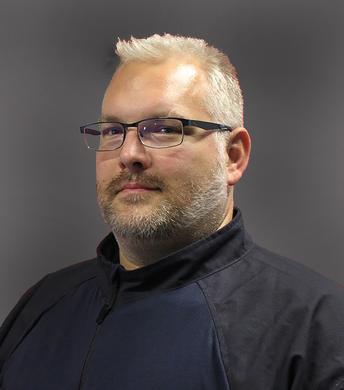 Keith Crisman
PhD Human Centered Design
Assistant Professor,

Space Studies

Human Centered Design, Microgravity Medical Systems and Procedures Architecture, Microgravity & Off-planet Habitation Simulation, Neutral Buoyancy Microgravity Analogs, & Additive Manufacturing
Office Address
Clifford Hall Room 532
4149 University Ave Stop 9008
Grand Forks, ND 58202-9008
Biography
Dr. Keith Crisman was awarded a PhD from the Florida Institute of Technology's Human Centered Design program with emphasis on rescue and safety systems pertaining to human spaceflight and microgravity environments.
There, he supported Florida Tech's Human Spaceflight Laboratory as the Health and Safety Officer as well as Research Assistant. Keith performed thorough risk analysis and developed both Adaptive Spaceship Cockpit Simulator and Intravehicular Spacesuit operational procedures supporting successful IRB application for Humans-in- the-Loop Simulations. Further, he has collaborated on FAA Commercial Space Transportation research related to analytics of the normative Human Spaceflight environment as well as collaborations with Embry Riddle University during research on IVA Spacesuit Ergonomics for Spacesuit Cabin Integration Human Factors.
Dr. Crisman has completed research at the Mars Desert Research Station as the Health and Safety Officer of Crew 219 and Commanding Officer of Crew 239. He plans to continue research in off-planet analogous simulators to include neutral buoyancy with an upcoming research dive at the Aquarius Reef underwater research facilityy (NASAs NEEMO).
He has an immense educational background starting with Automotive Technologies certification from Pike-Lincoln Technical Center, an AAT from Ozarks Technical Community College with emphasis in Psychology, a BSci in Psychology with Biology minor from the University of North Dakota, an MSci in Human Factors of Aeronautics from the Florida Institute of Technology and PhD in Human Centered Design from the Florida Institute of Technology.
Certifications include DAN DFA-PRO provider, PADI Rescue Diver, and AAUS Scientific Diver along with various related certifications. His work throughout this path has resulted in a Contained Environment Airlock Pass-Through (CEB) and Geologic Sample Return Container (SMR) for a Pressurized, Manned Rover, Collaboration between NASA Marshall Space Flight Center and the University of North Dakota Space Studies Department, completed in 2012, a patent for a Ferrohydrodynamic Thermal Management System and Method, US20160116223 A1, Fourier Electric LLC, Orlando, FL, USA, patent filed 2014, and the creation of an emergency containment system for single person use in a microgravity environment found within his dissertation, Microgravity Emergency Medical Containment System – A Concept of Architecture, Prototyping, and Usability Research.
Semper Exploro – Per Scientiam ad Martis
SPST 200 (Current)- Introduction to Space Studies, Undergraduate
SPST 310 (Inactive)- Introduction to Dinosaurs*, Undergraduate
SPST 510 (Inactive)- The Planet Mars*, Graduate
SPST 530 (Current)- Human Centered Design, Graduate
SPST 531 (Current)- Applied Human Centered Design, Graduate
SPST 532 (Current)- Disasters in Human Spaceflight, Graduate
SPST 533 (Pending)- Space Architecture: SciFi to Reality, Graduate
SPST 590 (Current)- Space Studies Colloquium, Graduate
*Inactive courses are being modernized and updated for re-release
BSci - Psychology (M) & Biology (m), Univeristy of North Dakota
MSci - Human Factors of Aeronautics, Florida Institute of Technology
PhD - Human Centered Design, Florida Institute of Technology
AIAA American Institute of Aeronautics and Astronautics - Space Architecture Technical Committee
AIAA American Institute of Aeronautics and Astronautics - Life Sciences and Systems Technical Committee
IAASS International Association for the Advancement of Space Safety - Space Human Performance and Health Technical Committee
IAASS International Association for the Advancement of Space Safety - Academic Technical Committee [Nominated]