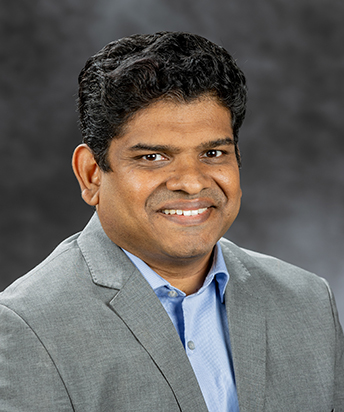 Sreejith Vidhyadharan Nair
PhD
Research Assistant Professor,

Aviation
Office Address
Ryan Hall Room 217H
4251 University Avenue Stop 9036
Grand Forks, ND 58202-9036
Biography
Dr. Sreejith Vidhyadharan Nair holds his Ph.D. in mobile wireless sensor networks from Birla Institute of Science and Technology - Pilani, India. He has over 19 years of research and academic experience, including working with government agencies and industries on funded projects. In addition, he mentored many undergraduate and postgraduate students in the area of cyber-physical systems and computer networks. Sreejith's research focus includes Unmanned Aerial Systems, Internet of Things, and Wireless Networks. He joined the University of North Dakota as a PostDoctoral Researcher at the Research Institute for Autonomous Systems (RIAS). Sreejith at present is working as Research Assistant Professor, Aviation, UND. His work involves developing communication protocol and improving sensing for air, and ground-based sensors, autonomous navigation, UAS assisted target detection and tracking using machine learning, designing, and developing intelligent systems using edge analytics, and GPS denied navigation for ground vehicles, etc.
Unmanned Aerial Systems,
Sensor Networks, Wireless Networks,
Internet of Things
Peer-Reviewed Publications
Piyush Nikam, Dhruv Shah, Aryan Sahu, Neena Goveas, and Sreejith Vidhyadharan, "Enhancing Real-Time Training of Heterogeneous UAVs Using a Federated Teacher-Student Self-Training Framework" -IEEE Military Communications Conference (MILCOM) Nov-2023
Skurdal, Anton, Youness Arjoune, Niroop Sugunaraj, Shree Ram Abayankar Balaji, Sreejith Vidhyadharan Nair, Prakash Ranganathan, and Burton Johnson. "Correlation of Egg counts, Micro-nutrients, and NDVI Distribution for Accurate Tracking of SCN Population Density Detection." In 2023 IEEE International Conference on Electro Information Technology (eIT), pp. 203-210. IEEE, 2023.

Prasad Pothana, Joshua Joy, Paul Snyder and Sreejith Vidhyadharan, "UAS Air-Risk Assessment In and Around Airports", 23rd Integrated Communications, Navigation, and Surveillance Conference (ICNS)-April 2023 (Received the 2nd best student paper award)
Sreejith Vidhyadharan, Paul Snyder, Mayank Anchlia, and Pulkil Agrawal "Data Routing in UAV Networks with Multiple Data Sources using Steiner Tree", 22nd International Conference on Next Generation Wired/Wireless Networks and Systems NEW2AN 2022, Dec-2022
Mishra, Eti, Piyush Nikam, Sreejith V, and Reena Cheruvalath. "An affect-based approach to detect collective sentiments of film audience: Analyzing emotions and attentions." Acta Psychologica 230 (2022): 103736.
Arjoune, Youness, Niroop Sugunaraj, Sai Peri, Sreejith V. Nair, Anton Skurdal, Prakash Ranganathan, and Burton Johnson. "Soybean cyst nematode detection and management: a review." Plant Methods 18, no. 1 (2022): 1-39.
Barajas-Olalde, César, Saurabh A. Chimote, Jordan Krueger, Donald C. Adams, Justin T. Kovacevich, Sreejith V Nair, Mohamed Elsaharty, and Mark Askelson. "Toward real-time detection of pipelines and spills." In Sixth International Conference on Engineering Geophysics, Virtual, 25–28 October 2021, pp. 316-320. Society of Exploration Geophysicists, 2021.
Shamanth Nagarajua, Sreejith V., Lucy J. Gudino, Bhushan V. Kadamb, Ramesha C. K., Joseph Rodrigues, "Hybrid area exploration-based mobility-assisted localization with sectored antenna in wireless sensor networks" - Published in International Journal of Communication systems, Wiley
Shamanth Nagaraju, Nipun Sood, Jasmine G. Chandran, Sreejith V., Lucy J.Gudino, "Multiple Token based Neighbor Discovery for Directional Sensor Networks"- Published in Electronics and Telecommunications Research Institute Journal (ETRIJ), Wiley
Shamanth Nagaraju, Lucy J. Gudino, Tripathi N, Sreejith V., Ramesha C. K., "Mobility assisted localization for mission critical Wireless Sensor Network applications using hybrid area exploration approach" - Published in Elsevier Journal of KSU-Computer and Information Sciences
Sreejith V., Prateek Khandelwal, K. R. Anupama, Lucy J. Gudino, "Energy Efficient Mobile MAC protocol with Mobility Vector for Neighbour Selection in Wireless Sensor Network" - International Review on Computers and Software (IRECOS)-Vol 11(12)
Sreejith V, Poojan Parikh, Arnav Goel, "An Energy Efficient Routing Protocol for Small World WSN Using Directional Antennas" in the Proceedings of IEEE TENCON-2019, Kochi, Kerala Oct - 2019
Amey Desai, Samarth Jain, Lohit Marodi, Sreejith V, An Affect Computing based Attention Estimation"- in the Proceedings of 11th International Conference on Ubiquitous and Future Networks (ICUFN-2019), Zagreb, Croatia July 2019
Shamanth Nagaraju, Sreejith V., Nipun Sood, Lucy J. Gudino, Mehul Kasliwal, Rajas Kejriwal, DCS-MAC: A Distributed Cross-layer Communication Protocol for Directional Sensor Networks"- in the Proceedings of 33rd International Conference on Advanced Information Networking and Applications (AINA-2019), Matsue, Japan, March 2019
Pratikkumar Desai, Deval Sanjay Garde, Sreejith V., Bijil Prakash, "Brain-Computer Interface Based Home Automation System for Paralysed People" - in the Proceedings of IEEE RAICS, Trivandrum, India Dec 2018
Nipun Sood, Shamanth Nagaraju, Sreejith V., Lucy J. Gudino, "Collaborative Neighbor Discovery with Slow Scan for Directional Sensor Networks" - in the Proceedings of 28th IEEE ITNAC, Sydney, Australia, Nov 2018
Siddarth Sreeni, Hari S. R., Harikrishnan R., Sreejith V., "Multi-Modal Posture Recognition System for Healthcare Applications" - in the Proceedings of IEEE TENCON, Korea, Oct 2018
Himanshi Sharma, Akash Sachan, Kandarp Gupta, Sreejith V., "A Received Signal Strength Based Fall Detection System Using Cognitive Sensing" - in the Proceedings of IEEE TENCON, Korea, Oct 2018
Sreejith V., Rutuja Surve, Nikhil Vyas, K. R. Anupama, Lucy J. Gudino, "Area Based Routing Protocol for Mobile Wireless Sensor Networks"- in the Proceedings of 32nd International Conference on Information Networking (IEEE-ICOIN), Chiang Mai, Thailand, Jan-2018
19 years of Teaching and Research experience
Institutions previously Associated with
BITS-Pilani Goa Campus, India (Faculty, Dept of Computer Science)
Indian Institute of Technology - Madras (IIT-M), Chennai, India (Project Associate, Dept of Computer Science and Engineering)
LMCST, Trivandrum (Faculty, Dept of Computer Science)
Presented the paper titled "Enhancing Real-Time Training of Heterogeneous UAVs Using a Federated Teacher-Student Self-Training Framework" -IEEE MILCOM, Boston, USA Nov-2023
Invited talk titled "Developing Counter-unmanned Aircraft Systems (C-UAS) using Smart Acoustic Sensors", in the panel -The Latest in Defense & Counter-UAS Technologies and Regulations, at UAV summit, Grand Forks, USA, Oct-2023
Presented the paper titled "UAS Air-Risk Assessment In and Around Airports" 24th ICNS, Herndon, Virginia, USA, April-2023
Presented the paper titled "Data Routing in UAV Networks with Multiple Data Sources using Steiner Tree" 22nd International Conference on Next Generation Wired/Wireless Networks and Systems- NEW2AN 2022, Dec-2022
Invited talk titled "Building An Intelligent Unmanned Aerial Vehicle(UAV) Sensing System and its Limitation" at UT Admin of DNH and DD, GPD, Daman, India, Virtual, Dec 2022
Invited talk titled "Research Using Autonomous Systems: Data Needs" at Pacific Northwest Gigapop Advisory Council Meeting with Dr. Mark Askelson, Virtual, Oct 2022
Invited talk titled "Unmanned Aerial Systems with Intelligent Edge and its Challenges" at Virtual International Conference on Futuristic Communication and Network Technologies (VICFCNT-2021), VIT-Chennai, Dec-2021
Keynote Talk titled "A Hierarchical Decision Making Architecture with Unmanned Aerial Vehicles for Remote Sensing Applications" at Fourth International Conference on Microelectronics, Signals & Systems (ICMSS'21), Nov -2021.
Inaugural/Keynote Talk titled "Edge Analysis: Moving computation from cloud to Ground" at Don Bosco Binghamton Big Data Online International Conference (DB3D 21), on Oct-2021.
Invited Talk titled "Affective Computing and its Applications", at Dept. of Science and Engineering, MG College of Engineering, June 2021, TVPM, Kerala, India
Invited Talk titled "From Connected Vehicles to truck platooning" at Dept. of Computer Science, Ponjesily College of Engineering, Jan 2021, Tamilnadu, India
Validate SUAS Well Clear Requirements (ASSURE-FAA)
Identify Models for Advanced Air Mobility (AAM)/Urban Air Mobility (UAM) Safe Automation (ASSURE -FAA)
Space-Based Wireless Network Protocol Stack Supporting MAC-Level Dynamic Resource Allocation for Real-Time Prioritized Data Classes (NASA)
Propose UAS Right-of-Way Rules for Unmanned Aircraft Systems (UAS) Operations and Safety Recommendations (ASSURE -FAA)
Shielded UAS Operations (DAA) (ASSURE -FAA)
UAS Standards Identification, Tracking, and Mapping (ASSURE -FAA)
Safety Risks and Mitigations for UAS Operations On and Around Airports (ASSURE -FAA)
UAS Safety Case Development, Process Improvement, and Data Collection (ASSURE -FAA)
Small UAS Detect and Avoid Requirements Necessary for Limited Beyond Visual Line of Sight (BVLOS) Operations (ASSURE -FAA)
Award from the VP for Research & Economic Development for developing C-UAS (UND-VPRED)
Simulating Autonomous Close-Proximity Spacecraft Interactions in a Microgravity Environment(UND- Aerospace)
Northern Border Security (Role as a Postdoc)- (UND- VPRED Seed grant)
Augmented Reality for the HMMWV (Role as a Postdoc) (AMG)