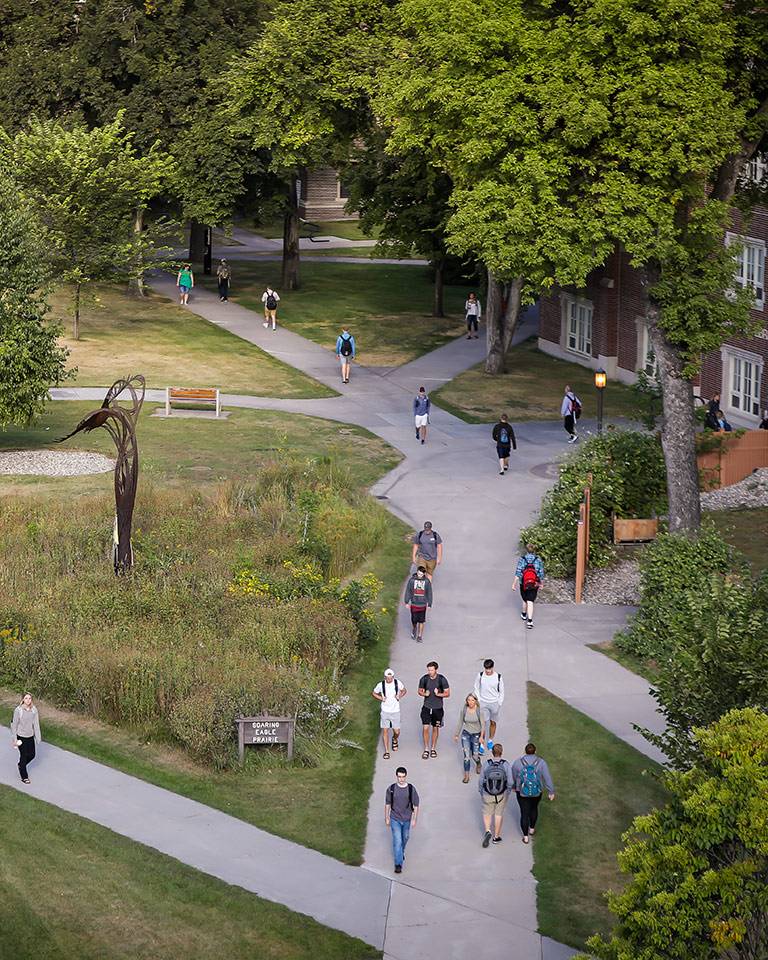 Facilities Management
Your first point of contact for all of your building and departmental needs.
Whether you have a heating problem, a broken chair in need of repair, or want to renovate your area, our staff will evaluate your request and determine how to best serve your needs 24 hours a day, 7 days a week, 365 days a year.
Steam Plant Dedication
On October 14, 2020 UND held and event to unveil UND's new, natural gas-powered steam plant designed to improve the energy efficiency of campus buildings and provide a better student experience.
Operated by Johnson Controls through a 40-year public-private partnership (P3) with UND, the new steam plant includes up-to-date technology expected to deliver more than $1 million per year in energy savings, provide resiliency for UND's infrastructure and reduce the carbon footprint.
Facilities Services
Facilities Management provides three types of service.
Maintenance
A work request that involves general maintenance includes:
Routine maintenance and repairs to general university buildings (interior and exterior)
General exterior grounds maintenance
This work is to maintain existing or return it to operational condition. It restores the building or facility to its prior condition. Examples of this are a leaky faucet or a broken lock. Maintenance requests are generally funded by Facilities Management.
Submit a maintenance request by calling 701.777.2591.
Request for Service
A service request for work does not involve general maintenance of a building. This work aids a customer and is subject to a charge. This type of work is performed by Facilities Management on a schedule that is determined by priority of need taking into account impact on the University's mission, life cycle of the system or component, availability of staff and funding allocations.
You will be charged for a discretionary request for service that involves a non-maintenance type request, all building alterations/improvements that are outside of the University's annual Plant Fund Projects and the installation of or maintenance of all departmental owned equipment. Examples of this are to have departmental furniture moved or to have departmental equipment repaired.
Submit a request for a service by calling the Account Tech. at 701.777.4947.
Projects
Projects Under $100K
As a general rule projects costing less than $100,000 can be done with no estimating needed to complete design and estimates as required. The design is done with Facilities Management design personnel, outside Sundry Architects/Engineers or a combination of both. The project work itself is accomplished utilizing Facilities Management trades personnel, outside contractors or a combination of both.
Projects Over $100K
Projects with construction costs greater than $100,000 require the hiring and utilization of Architect/Engineers, specifically with additions or changes to current space or function of the space. Examples of this range from installing departmental equipment, space renovations or new construction. Project work is charged to the department or requesting entity.
Mission Statement
Facilities Management makes UND Exceptional by committing to fiscal responsibility, outstanding customer service and excellent workmanship, and by delivering clean and comfortable buildings and exterior spaces that are aesthetically pleasing.
Core Values
Excellent quality of service
Excellent customer services
Excellent teamwork
High level of sustainable performance
Social Distancing Open Bid Procedure Change
This message is in regards to a change in process for public improvement pre-bid meetings and bid openings at the University of North Dakota. Due to current restrictions on group gatherings and the need for social distancing, UND Facilities and UND Procurement Services have developed new procedures that allow for remote public participation in these events.
For existing and upcoming public improvement bids, UND will encourage contractors to submit bids electronically whenever possible. Suppliers can elect to submit a physical bid envelope through the mail. The actual bid opening will be closed to in-person attendees and only available for the public to join via a Zoom meeting in order to avoid group gatherings.
Facilities Procurement has issued amendments on projects currently out for bid that provides Zoom meeting links for the pre-bid conferences. They will also include a message that UND is requesting all bids be submitted electronically and provide a link for a Zoom meeting for bid opening.
North Dakota Century Code (NDCC) 48-01.2-07.
Please contact Jana Thompson with questions or concerns.
Jana Thompson
Director of Financial Operations
jana.k.thompson@UND.edu
701.777.2126